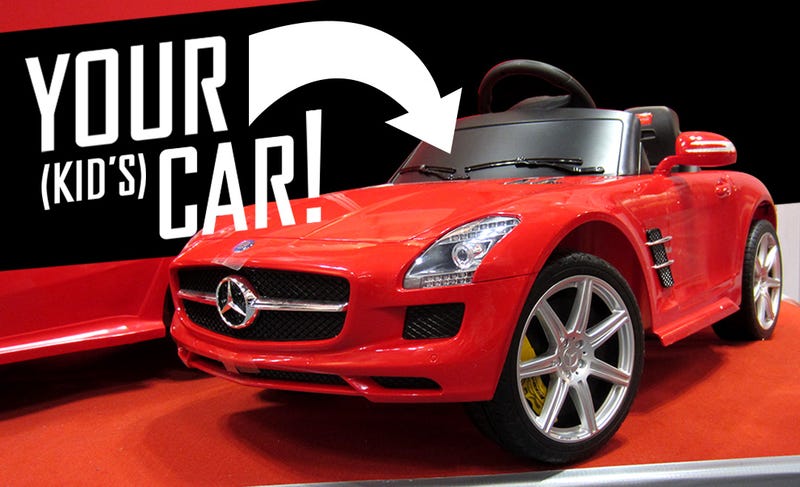 Remember when you were a kid, and you scooted around town in the adorable, rotationally molded wonder that was the Cozy Coupe? Remember how awesome that was? Remember how, at that age, you thought it was the pinnacle of automotive excellence?
Kids these days have it way better than you ever did.
Last week was New York Toy Fair, the annual monstrosity where toymakers reveal their latest and greatest, hoping for great press and more buyers. The big guys - Mattel, Hasbro, Spin Master - all keep their booths hidden away by appointment only. The continuing saga of Mattel vs. MGA clearly shows why this is the case.
But a strange thing happens at Toy Fair. Wedged between aisles of up-and-comers is an entire section dedicated to China. There are no brand names above the booths, just massive banners that say "China - Toy Manufacturing," as if you've stumbled into another country all together. Most of the toys featured here are exactly what you'd expect - crappy tchotchkes and half-assed knockoffs of popular brands.
But one booth at the end of the aisle caught my eye.
Rastar Industrial Co. Ltd. is a manufacturer with an "...inheriting mission of enterprise 'carry on the motor vehicle culture, enhances the quality of life style'." - which is a sloppily-translated way to say they make badass toy cars. Possibly the best out there. You thought a Power Wheels Jeep was cool? Wait until you see Rastar's lineup.
Their Toy Fair booth featured ride-on versions of the BMW Z4, Lamborghini Aventador, and Mercedes-Benz SLS AMG Convertible, to name a few.
The quality of these little ride-ons are far better than anything currently offered here in the United States. The molded headlights, grilles, and badging — along with the detailed brakes, rotors, and wheel styles — perfectly match the vehicles they were designed after.
I tried to ask the employees manning the booth if they had any press kits or information on the line, but sadly, nobody there understood my English. Their website currently provides no information on their ride-ons, but if their Toy Fair showing is any indication - they've got a stellar product line-up to get little kids to hit the ground running in a much nicer car than you'll ever have.